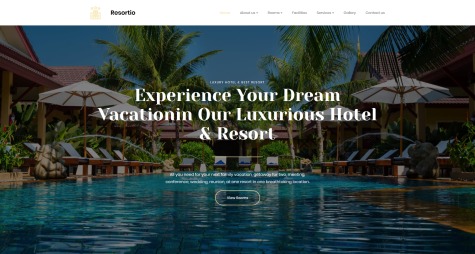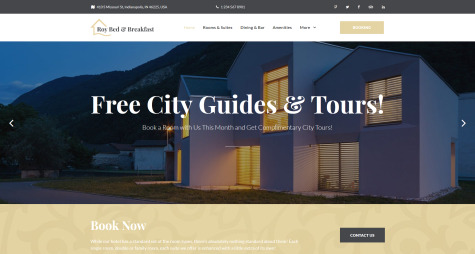 Roy Bed & Breakfast
Multipage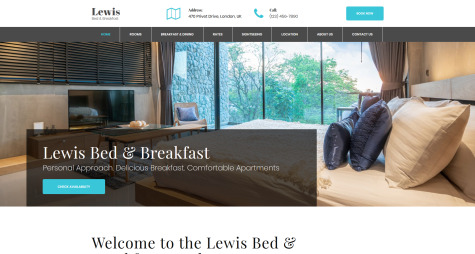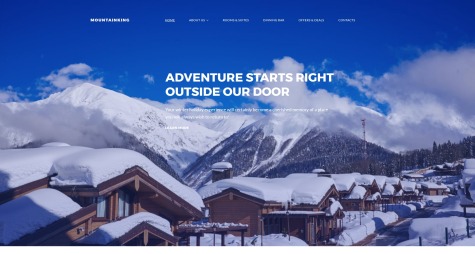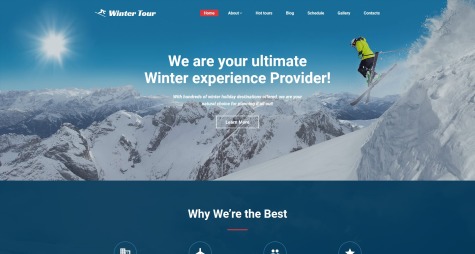 MotoCMS Bed and Breakfast Website Templates
Modern technology is not only a means to improve the quality of life, but also an excellent tool for earning. Therefore, today, the creation of a website for a business plays a critical role. Thus, if you have a hotel or hostel, you surely have to view our some eye-pleasing accommodation website templates. Your web resource can become not only a great visit card but also a multifunctional assistant. With this one you can:
promote services without overpaying for advertising in the media;
find new customers and increase the popularity of your hotel;
coordinate the booking process online;
report and plan significant events.
Want to get a multifunctional Internet resource that will perform all of the above functions? Explore the possibilities of bed and breakfast website builder now! Impeccable design, fantastic functionality, full compliance with all modern technical requirements. MotoCMS bed and breakfast website templates have all these features by default.
Best Website Builder for Bed and Breakfast from MotoCMS
The more complex the technologies used, the more functional the web project should be. Of course, the workflow of site creation requires a lot of skills and nuances. However, you do not have to think about it if you choose ready-made solutions from MotoCMS.
Our experts have created popular sites for over ten years successfully, so we know for sure what different niches need. You can choose a beautiful landing page for your hostel or create a multi-page website for a designer boutique hotel. In any case, each of the bed and breakfast website templates corresponds to all the trends of modern web design.
Fantastic Adaptability of Bed and Breakfast Website Builder
Every year, more users prefer smartphones for web surfing. Thus, visitors have more opportunities to access the necessary services. A variety of new gadgets adds value and complexity to web projects. Indeed, in addition to the standard version for the desktop computer, you will have to develop a mobile one separately. However, relax and trust MotoCMS professionals. We have provided this vital nuance and equip the bed and breakfast website templates with several versions in advance.
To the standard version of the site, you will receive three additional ones for a laptop, tablet, and smartphone. Moreover, all free bed and breakfast website templates can adapt to screen resolution and used browsers automatically. Choosing one bed and breakfast website template, you get a full-fledged web project with high-quality versions for the correct operation on all modern devices.
Customization Tools in Bed and Breakfast Website Templates
The purpose of creating the site determines the functionality of it. Depending on what information you want to place on web pages, you can choose tools for working with content. Want to create a beautiful business card? Choose a hotel booking website design that focuses on content blocks.
Need an assistant to help you plan events and book rooms online? Check out the bed and breakfast website templates with contact forms and feedback widgets. An incredible variety of customization tools is one of the main advantages of MotoCMS. Using the hotel website builder, you can realize any idea. After all, our ready-made solutions were created using this tool.
Useful Widgets in Bed and Breakfast Website Builder
Free bed and breakfast website templates are ready-to-use solutions. To start a site in the shortest possible time, you need to change the existing content with your information and media. However, small edits will help you make your site more unique. MotoCMS knows that it is you who is best versed in what your business needs. Therefore, we suggest you familiarize yourself with the assortment of designer widgets to realize all the necessary functions.
With the standard content widgets, you can explore tools for interacting with customers. For example, in addition to standard social buttons, you can find other popular ones or create a unique one with links to additional resources! The possibilities of contact forms allow not only to leave applications for reservations but also offer the client to choose a room on your site directly. Choose what will help you expand your business opportunities to the maximum!
Simple SEO with Bed and breakfast Website Templates
Search engine optimization tools are necessary so that users can find your site among many similar ones. Proper emphasis on SEO options will help bring your website to the top results. Using the bed and breakfast website builder, you do not have to learn complex manuals and seek the help of third-party specialists. You can edit some tools by yourself:
write unique titles and descriptions of web pages;
come up with catchy URLs;
prioritize indexing;
generate a map of your site;
optimize images and texts.
All bed and breakfast website templates have default SEO options, so you don't have to configure this from scratch. Moreover, each function has a tooltip with useful information. Thus, you can conduct full-fledged search engine optimization without much effort.
Guarantee of Reliability and Quality
Web design trends are changeable, but the relevance of your site depends on them directly. If you want your web-resource not to lose popularity over the years, you will have to take care of updating one regularly. MotoCMS offers its customers assistance with this challenging task. By purchasing hostel website templates once, you are guaranteed to receive:
lifelong technical support of our specialists;
regular site updates;
free access to the new hotel website builder functionality.
We are also working on expanding the range of bed and breakfast website templates. Therefore, if you have interesting ideas, feel free to share them with MotoCMS! After all, it is you who are our ideological inspirers.
Universality of Free Bed and Breakfast Website Templates
Hostel website templates edit with drag-and-drop function. You can not only monitor changes in real-time but also operate on interface elements with a few mouse clicks. All edits will save instantly, so you do not have to spend too much time and worry about the safety of your creative impulses. The control panel is available at any time, and from any device, so you can change your site as soon as you want it.
MotoCMS bed and breakfast website builder also does not impose restrictions on the use of widgets. You can modify your web resource beyond recognition, if necessary. For example, if you purchased bed and breakfast website templates for your hostel, you can turn it into a multifunctional best boutique hotel websites quickly.
Some Tips for Creating Hotel Booking Website Design
Each business niche has its requirements for the appearance and functionality of sites. It would be strange to see the website of an insurance company with colorful banners. The doctor's site without information about the services also does not inspire confidence among visitors. The effectiveness of the site depends on many nuances, including from the goals of creating one.
If you want to get not only beautiful but also a practical web resource, you need to study the main nuances of hotel booking website design. That's why our experts have already compiled a simple list of must-haves for you. Follow simple tips to remember to implement the essential features when editing your bed and breakfast website templates.
Emphasize Priorities
The home page of the site is what affects the first impression of visitors about your hotel. You will not surprise anyone with a vivid picture since this business sphere has very high competition. Do you want your site to stand out among many similar ones? Let the user know about your services as quickly and comfortably as possible.
For example, you own a boutique hotel, where all rooms are individually themed. So, you can place photos of the premises on the main page directly! To do this, select one of the attractive galleries from the assortment of widgets of bed and breakfast website builder. Hostels are often the preferred choice for active travelers. Therefore, attract visitors with short extracts with useful information. If you do not know how to submit the information correctly, you can check out the bed and breakfast website templates from leading MotoCMS designers.
Pay Attention to Media Content
The appearance of the rooms is the first thing your visitors want to know about the hotel. The more quality photos you use on your site, the higher the likelihood of an increase in customer flow. We recommend that you use real images exclusively. If necessary, you can ask professional photographers to help you with the content for bed and breakfast website templates.
Also, pay attention to the design of photo albums and galleries. Too many images can affect the speed of the site. Use some photos to describe the designer room. Thus, the visitor will not get bored from the abundance of information and will be pleasantly impressed by the speed of loading web pages.
Add Functionality
The ability to leave applications for online room booking is another excellent way to become a leader. While your competitors publish beautiful views and write standard texts, you can add some tools for interacting with customers. For example, improve bed and breakfast website templates with contact forms or add an online chat button. Invite customers to fill out the information about:
arrival and departure dates;
the rooms they would like to stay in;
the composition of the tourist group (whether there will be children or animals);
additional services (do you need a transfer, etc.).
Using the bed and breakfast website builder, you can implement these features in a few hours. Thus, you can not only pleasantly surprise your customers, but also stand out from the competition.
Take Care about Abroad Customers
The hotel business involves regular contact with guests from abroad. And if tourists from neighboring cities can contact you by phone at any time, then foreigners will communicate with you through your website. Make sure guests feel comfortable even before arriving at your hotel. Create a new version of the site in a foreign language specifically for them.
All bed and breakfast website templates support multilingualism by default. You only need to duplicate the available information and place it on a copy of your site. In the future, you can connect all the functions using the menu and buttons easily. If you have any questions and need help with this, you can always ask the MotoCMS support team for advice.
Bed and Breakfast Website Builder - Main Work Moments
Even if you decide not to make global changes to the bed and breakfast website templates, you will have to get acquainted with the control panel anyway. But not hesitate - MotoCMS hotel website builder is elementary to learn and has an intuitive interface. All workflows are grouped and come with helpful hints. So feel free to explore the editor features. Surely you will find something useful among the extensive functionality of the bed and breakfast website builder.
1. Choose One of Bed and Breakfast Website Templates
Choosing a template is the most essential and crucial step in creating a website with a bed and breakfast website builder. Especially it values if you do not have enough time to create a site from scratch. In any case, editing ready-made MotoCMS solutions is free. Within 14 days, you can modify the selected guest house website template and study the editor's tools.
If necessary, you can switch to another solution at any time by deactivating the previous one. We do not impose any restrictions on the use of hotel website builder. You get access to all of the possibilities of one no matter which of the bed and breakfast website templates you choose.
You can also pre-examine the demos of the best boutique hotel websites. Thus, you can learn more about the functionality of each of the ready-made solutions without going to the control panel.
2. Edit the Hotel Booking Website Design
Best boutique hotel websites are a combination of conciseness and ergonomics. Correctly selected color scheme and well-divided information can increase the effectiveness of a web resource significantly. The block structure of bed and breakfast website templates is an ultramodern design solution. Thus, you minimize the amount of text used, and your site does not seem overloaded.
For the convenience of our customers, we have equipped the hotel website builder not only with the drag-and-drop function but also with the ability to edit web pages section by section. Thus, you can change the location of the content blocks or make changes to the headers without sacrificing a complete composition.
3. Explore More Features
The bed and breakfast website builder has several built-in editing modes. In addition to changing the structure and design of web pages, you can familiarize yourself with the Blog and Media Library. A blog is an editing mode in which you can manage all the articles that you post on your site. The Media Library is an internal data storage where you can upload all kinds of files. Moreover, you can edit pictures in the hotel website builder directly. Thus, editing bed and breakfast website templates will take you much less time and will not require the use of third-party programs.
4. Publish Your Hostel Website Templates
A ready-to-use web project consists of many different files. Therefore, newcomers often don't understand the intricacies of the site launching. That's why the MotoCMS team thought out options for solving this problem in advance. Decide if you have the time and desire to install of bed and breakfast website templates yourself? Depending on your wishes, you can go in one of three ways:
Examine the relevant guides. In the Moto Help Center, you can find a lot of useful information regarding working with the bed and breakfast website builder, including a detailed manual on installing the site.
Ask for help from a specialist. You can get a MotoCMS employee consultation at any time, by phone or online chat. We are always ready to come to your aid and give useful advice.
Assign the installation to programmers. To do this, you need to choose a hosting provider and open access. Our staff will launch your web project within six business hours.
Open New Possibilities with Bed and Breakfast Website Templates
A site is an absolute must-have for any business. Allow yourself more and discover a world of new opportunities today! Bed and breakfast website templates are the best web design solutions for those who value quality and beauty. Do you think that a new site that will equip with all the necessary technical characteristics is expensive and complicated? Let MotoCMS convince you otherwise.
Our goal is to help beginners create full-fledged web projects and expand their business. Enjoy editing the hotel booking website design, and we will take full care of the technical implementation of your ideas!