Sale Up To -17%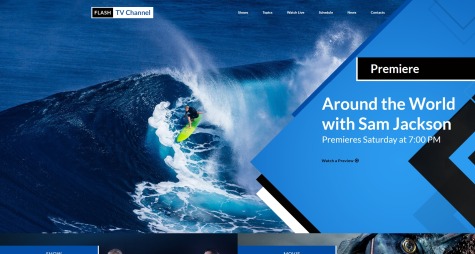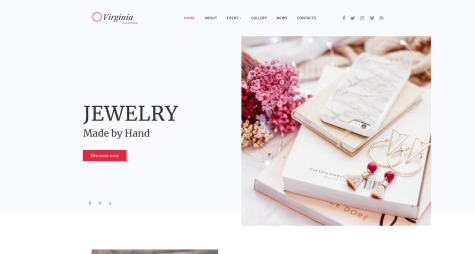 Virginia Handmade
Multipage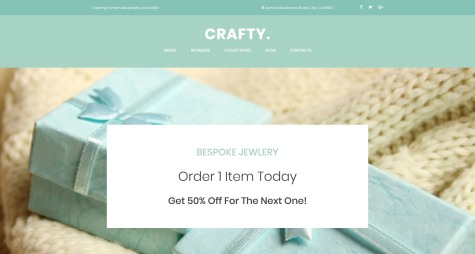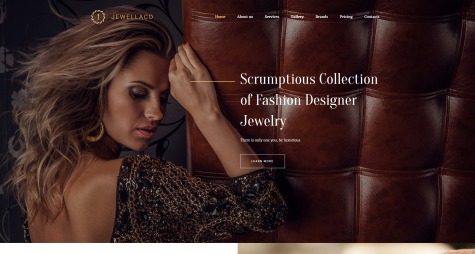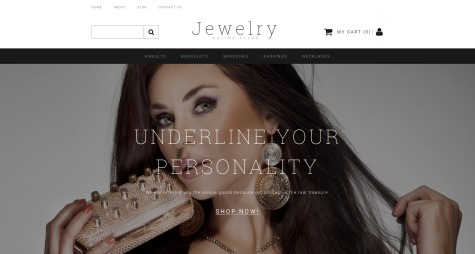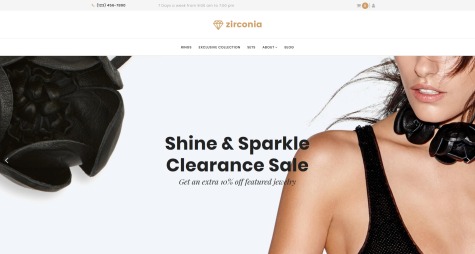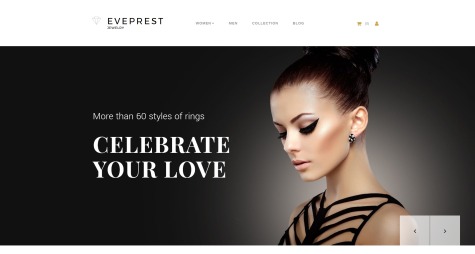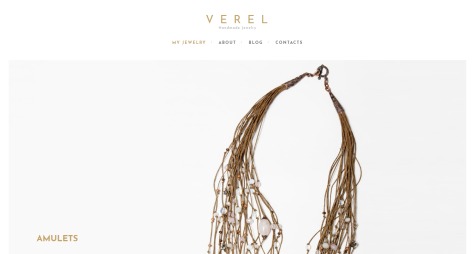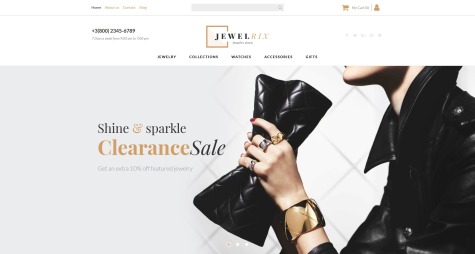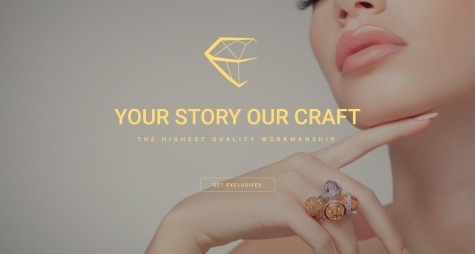 Jewelry Website Templates on MotoCMS Builder
If you are an owner of a jewelry shop or represent a jewelry chain, then a website is what you need for promoting your business. Having said that, one has to take into account that to promote such goods like jewelry you should find the best cms to create jewelry website. Your clients need to know that your jewelry stands for high quality, right?
That is why, when you decide to build a jewelry website, you should consider the best jewelry website templates from MotoCMS. We are pleased to introduce the collection of our jewellery website templates to you! This collection from MotoCMS has all you need to make your jewelry goods and supplies known worldwide. Just pick a jewelry website design that suits your business and get ready to welcome new customers to your store!
Fabulous Jewelry Web Design with MotoCMS Jewelry Website Templates
What are the main advantages of MotoCMS jewellery website templates? To begin with, all our jewelry website templates come with a unique admin panel. The main idea behind this admin panel is that you do not need any programming knowledge in order to create jewelry website. What you need is to simply drag and drop certain content elements till you see the layout you like.
As you understand, editing a website that is already up and running is also a piece of cake. Once you get the drag-and-drop principle, nothing can stop you till you get the website you have always dreamed of! Another important feature of our jewelry website templates is their mobile-friendliness. We all know how popular mobile devices are these days. It is not a secret that the growing number of purchases online is already performed via a mobile telephone.
That is why we equipped all our jewellery website templates with both a built-in mobile version and responsive design. This way we make sure that your jewelry looks breathtaking on any known device. So, welcome to the MotoCMS jewelry collection! Enjoy the exquisite jewellery website design, sophisticated layouts, and reasonable prices with MotoCMS!
Topical Kinds of Jewelry Website Templates
If you know a lot about jewelry and want to share this knowledge with others, start a website for your future followers or buyers with our jewelry website design templates! They can serve you well if you want to create jewelry website, a blog devoted to fashion trends and tendencies in accessories, or an e-store which specializes in:
wedding jewellery;
handmade jewellery;
exquisite kinds of accessories;
jewelry with stones;
engraving and personal orders;
materials and equipment for making jewelry.
Main Advantages of Moto CMS Jewelry Website Templates
Want to share your vision of jewelry with the whole world? Not sure which one out of the list of jewellery website templates to choose if you don't have coding skills? We have a perfect and trouble-free solution! Meet the best jewelry website templates from MotoCMS. Our jewellery website design lets you build a jewelry website effortlessly. Also, you can propagate your website through the whole web, thanks to well-optimized coding, included social widgets and powerful SEO tools.
Use the variety of awesome features like drag-and-drop website builder, tons of Google fonts, different button and menu presets, pre-installed video and audio players, tabs, changed or added just by dragging from the widgets tab of the admin panel. As you can see, creating a feature-rich jewelry website has never been so easy!
The all-powerful Website Creator that our jewelry website templates contain will help you organize the layout of any page that you want to edit. By simply clicking on a content block, you can drag-and-drop it wherever it looks better for you. That's as easy as building a house using kids construction blocks! What is more, the admin panel of all our jewellery website design templates is really intuitive and comprehensible.
So you don't need any special programming, coding, or web designing skills to create your first site devoted to jewelry. It is non-difficult to edit, add or delete any element of design. Even functional features can be changed if you need it.
Visual Representation of Jewellery Website Design
When a customer comes to a jewelry website they are expected to find a lot of visual information and to be impressed with the stunning pictures and even videos of the goods which are offered by the company website. Not having a chance to try it on and see how jewelry looks on their hands, necks, and ears, clients strive to get as many qualitative images of the products as possible. You may assist them with the help of our jewelry website templates.
Firstly, eye-catching galleries in the best jewelry website design will attract your website visitors, whereas blog pages with a beautiful interface will keep your visitors insensibly updated in the latest jewelry trends. The sliders are also filled with nice images. There are separate blocks with photos. Most of the jewelry website templates contain a grid-based catalog of images placed on the homepage too. Besides, a separate gallery page can be easily filled with the impressive images and descriptions of the jewelry items you offer. These galleries are probably enough for plenty of collections, but if you need more – add other gallery widgets in the admin panel!
When jewelry website templates are fully responsive, they look nice on all popular device types, whether it is a computer or a smartphone, a tablet or a laptop, whatever. Furthermore, you yourself can see how your future site looks differently directly in the admin panel, and change the look for every type of the screen in a couple of clicks. Don't forget about cross-browser compatibility, which is also an important feature if you want your customers to feel satisfied with the experience of using your site from different devices and in different browsers.
Design Features of Jewelry Website Templates
If we talk about visuality we cannot but mention the design of jewellery website templates. Our jewelry website templates have a wonderful jewelry web design made by true professionals. It looks fantastic in every jewellery website template due to beautiful colors and specific details. The color scheme includes illuminating tones with refined accents. If you are not satisfied with the colors selected by our pro developers, you can change them without trouble applying a helpful tool named a Color Picker. Experience the real magic of designing your color palette!
Large images scrolling in sliders create an attractive presentation of your products and set the website aim properly. The visual content dominates over the text as there are many images of luxurious jewelry and beautiful models wearing it. The navigation bar is usually compact and convenient as well as all buttons working well on jewelry web page designs. Therefore build your brand by making it glare on the web! In addition, one should pay attention to a catalog for jewelry if they create an online store.
In our jewelry website templates, catalogs are simple but fabulously designed. Such catalogs are pleasant to the eye, and not just because they demonstrate luxurious jewelry but also a reasonably chosen background makes things look sophisticated and nice. Our ecommerce jewellery website templates suit jewelry designers and manufacturers, so they focus on the jewelry showcase. Before, it was problematic to add decent imagery to the jewelry website because it would decrease the loading speed dramatically. Thanks to the advances of modern technology and skillful web designers from MotoCMS these problems can be forgotten. All the pages with huge images, slides, and videos now load lightning-fast.
Handy Widgets of Jewellery Website Templates
MotoCMS offers you to build a jewelry website with our jewelry website templates as they have all the features your company may need for growing business online. You get a big choice of widgets to build a truly valuable website within the MotoCMS admin panel. Showcase your jewelry to customers using one of the photo galleries such as Background Slider, Carousel Gallery, Sliding Gallery, etc. Build a navigation scheme your visitors will love and use it with ease by means of the editor mentioned above.
The widgets like social media, video, and a contact form help you to enlarge your clientele in the blink of the eye. The Google Map widget will help your prospective visitors to find your jewelry shop quickly. With MailChimp, you can make sure that your loyal customers stay well-informed about all the special offers and new products. All jewelry website templates on this page brings you an opportunity to start a blog. It can be the essence of your site or just a part of it which will attract new customers with interesting articles.
There is also a handy tool which can connect all your social network accounts to your jewelry blog or online store. So, customers will feel comfortable visiting your pages on Facebook, Instagram, and so on. Which promotional methods do you use for your jewelry brand? If you do not have a website, your efforts are vain. In case you haven't made a website because of your budget is low, or you think it's too complicated – use MotoCMS top jewelry website design. Then if you have already started a nice jewelry site, you should think about its SEO indicators. Our jewelry website templates boast handy SEO options that allow you to adjust the site to appear on the top of SERP.
Online Store Features
What if you don't want anything except for the perfect online jewelry store? A successfully running shop within days is not a dream anymore. There are beneficial tools and instruments made especially for your online store. For example, you will have a rich choice of payment methods (a manual payment, 2Checkout, PayPal Express, PostFinance, iDeal, Skrill, QuickPay, and YandexMoney) at your disposal.
The menu of your jewelry e-store will be logical and will draw the immediate attention to the assortment. With MotoCMS, you will also definitely fall in love with cute social buttons. Stylish stock photos, perfectly chosen text fonts and website color ornament will make your online store more popular, multiply the number of your customers, and increase your profit rate. There are also separate pages for services, products, and contacts, which is convenient. Edit the original look of one of the jewelry website templates using a bunch of helpful widgets and tools.
Free Demo Period for Jewellery Website Templates
Selling jewelry online used to be tough because people wanted to try everything on before actually paying their money. As you are a professional in the sphere of making and selling jewelry, you may also feel the need to try the preferred jewelry website templates before you buy them. It can be done!
MotoCMS team gives you a 14-days trial period completely for free. In case you want to make sure that everything is the way it should, test it out. What is more, during this period you will be using a template with full functionality, and all the features can be tested. If you buy a template during this demo period, all the changes will be saved. You won't have to repeat them once more. So, two weeks after your first pick of a handmade jewelry website template, you get a fully-functional site which is up to your liking! Furthermore, registering a trial version is as easy as ABC.
24/7 Tech Support for MotoCMS Jewelry Website Templates
As you can see, everything is so easy in our jewelry website templates, though if you still have some problems or need advice, there is a way out! In case you're stuck with anything, feel free to contact the 24/7 tech support team. They are more than happy to assist you. The Help Center from MotoCMS will come in handy to create and update your jewelry site making your life easier and your business bigger.
Also, when you keep working on your jewelry website, remember that you can always get in touch with the tech support at any time and through any communication channel is convenient for you. For one year it is completely free of charge. Our jewellery website templates can make your prospective customers believe that your jewelry is perfect for them!
Right after you register a free 14-day trial (to do so you will only need your social account or an email address), you will see a message from your personal assistant. You can either ignore it or use it to the fullest. Contact this personal assistant via a phone or a chat 24/7. In addition, you will be offered various video tutorials concerning the customization spectrum of MotoCMS jewelry website templates. There is little room for doubt about how quickly you can launch your jewelry website or online shop!
Create Jewelry Website in a Couple of Clicks
Do you like all the features mentioned before? Have you decided to make an online jewelry shop of your dreams? Do you desire to start the most trendy jewelry blog ever? We have jewelry website templates for all your purposes. Your shiny products will look great in the exquisite product catalog from MotoCMS, and your blog will be extremely attractive. Just give jewelry designs a try!