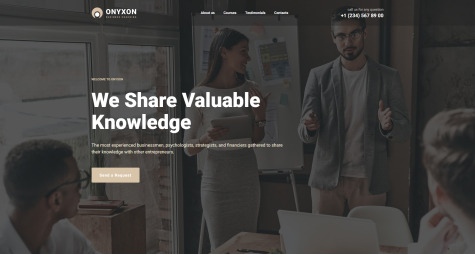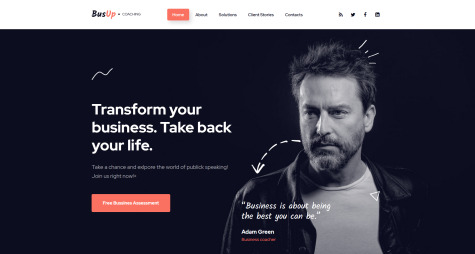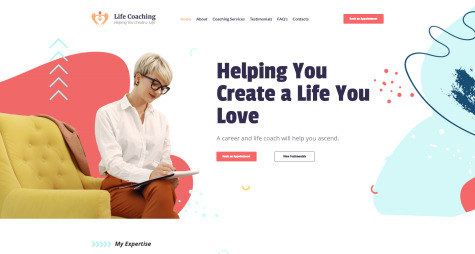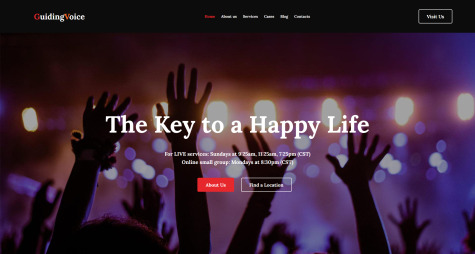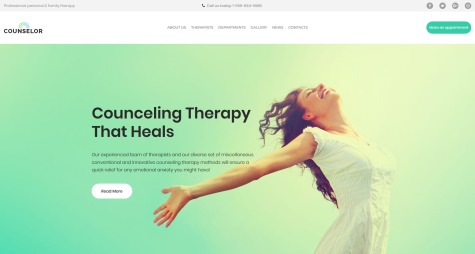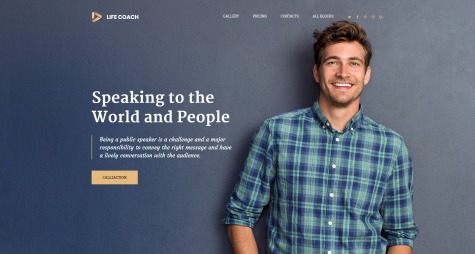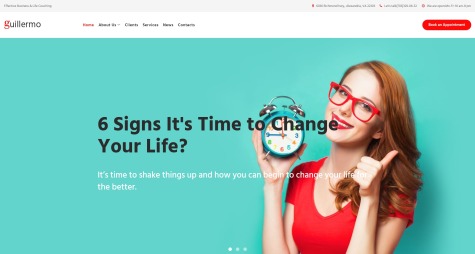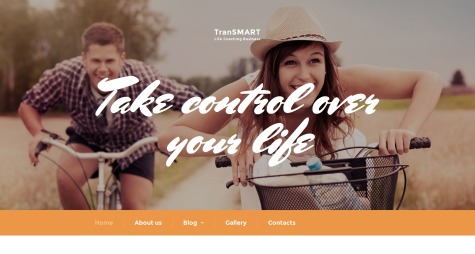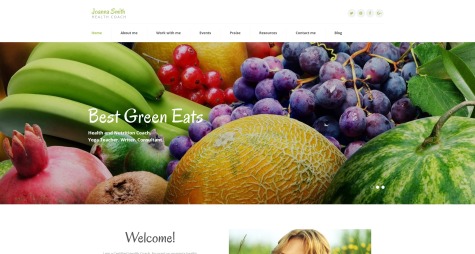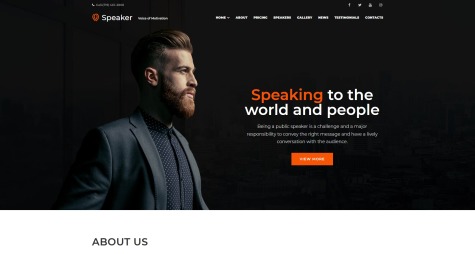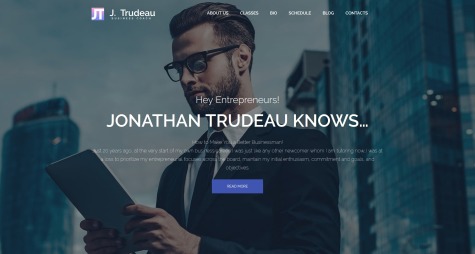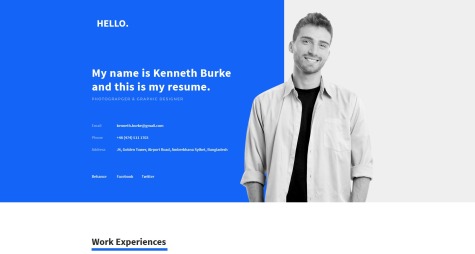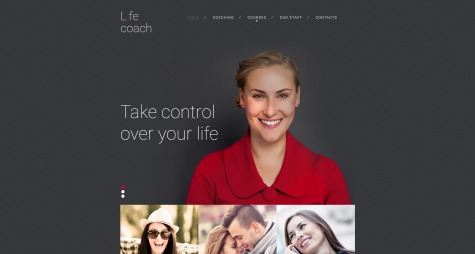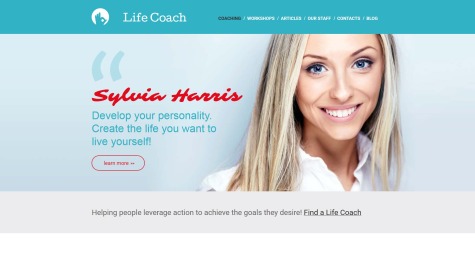 MotoCMS Life Coaching Website Builder - Design Solutions
First of all, visitors to the site can evaluate its design. The bright picture easily attracts attention, and the ergonomic layout of the widgets will help the user to understand the navigation easily. The location of functional blocks has to be comfy as it determines how much time a potential client wants to spend on your resource.
The development of site design takes much more time than the actual creation process. But why spend this valuable time if you can occupy yourself with something more constructive and enjoyable? Use MotoCMS life coaching website builder! Each of the social website templates meets all current web design requirements. Now creating a beautiful website is as easy as drinking a cup of coffee!
How to Work with Life Coaching Website Builder
The creation and editing of the site take place in the innovative MotoCMS website control panel. You can try out any of the life coaching website templates for free. Get acquainted with the functionality of the admin panel. You will understand that the process of developing websites with the help of a builder is as exciting and straightforward as an entertaining computer game.
What do you need for this? If you already have an account, please log in. If there is no account, you can register one in a few minutes. Select the coaching website design you like and click on Try for Free button. After you receive a notification in the email, follow the link in the letter and get immediately in the edit mode. All tools for creating a website are entirely free, even in the demo version.
Within 14 days you can use all the tools of the life coaching website builder for free — no restrictions and premium accounts. The intuitive admin panel has several primary tabs, such as the page editing panel, blogging mode, a handy media library, and the general settings tab.
Explore the Editing Models of MotoCMS Life Coaching Website Builder
Ready-made solutions from MotoCMS aim to save time and money. Of course, you can hire a turnkey website development team not to go into the details of the process. But in the end, the editing workflow will be much more expensive than direct creation. Anyone can cope with the life coaching website builder, regardless of programming skills and experience in web design.
Mainly for your convenience, there is intuitive navigation and logical separation for step-by-step tuning. Do not be afraid to experiment as website creation is an actual process of the invention. With MotoCMS, you can be sure that the result will come out exactly as you planned it initially:
all widgets and functions come in appropriate categories;
each element has a tooltip;
there is a Help Center where you can join the community and communicate with qualified specialists;
you can sign up for a free online course at any time;
there is round-the-clock technical support.
Page Editing Mode
It is the mode where all the magic happens. Here you can work on the design of the pages. What can you do with the life coaching website templates?
Add and delete pages of the site;
Edit the location and content of the functional blocks;
Modify the look of the pages;
Customize the cross-browser view of the site.
All visual components contain several settings by default. You have to select the element of interest and edit it. No blank pages! The main advantage of ready-made solutions is that you will not get lost among the many unfamiliar options.
Original Content Feed
The effectiveness of the site is almost entirely dependent on its content because the visitor comes to the web resource just for useful information, and not for the design. Site content is any data that you post on it. It is almost impossible to improve the efficiency of online business and bring the site to the top of the search results without high-quality and up-to-date content. The convenient set of tools available on the admin panel of life coaching website builder will help you to place the content correctly and showcase it splendidly.
In design mode, you can work with function blocks and widgets separately. A function block is a specific part of a page that contains several widgets. Meanwhile, a widget is a structural unit of a graphical interface. For example, a text box is a widget. A place with different buttons and fields, which reserve for an article, is a functional unit.
Each life coach website template powered by life coaching website builder contains sets of functional blocks by default. However, you can always edit them and fill the blocks with more new widgets. Customize the appearance of the gallery, add a few additional buttons of social networks. The open space for creativity is not limited!
Blog Editing Mode
In the blog editing mode, a life coaching website builder has all the necessary options for content management. Just click on the 'add' button to proceed to create a new post. Enter the title of the article. The URL will generate automatically. If necessary, you can always edit it via the blog website builder. Then you get into the blog editing mode. The default page contains the publication date, author and buttons for social networks. Select the desired widget and paste it into the appropriate section.
Get to know with various tools of life coaching website templates that aim to help you work out the content.
Text editor;
All kinds of delimiters;
Several types of gallery views and media insertion widgets;
Widgets for working with third-party services.
All articles are displayed in the main table of the blog editor in the life coaching website builder. If necessary, you always can edit or delete them. All publications are tagged, such as published or draft. This way you will never lose valuable content!
Media Library
Media library of life coaching website templates is reliable cloud storage of your data! The data storage has its navigation and suitable structure. What should you pay the most attention to when exploring the library?
Support for multiple formats. Feel free to upload pictures, video files, audio, archives, documents or application files.
File sharing. To find the file you need, you can go to the tab separation by format or go to the appropriate folder.
General settings. Each file has a name, its URL, and a name that the user will see if it will not load.
Work with folders. For you not to get lost among the content, we suggest dividing it by pages. Each folder corresponds to a specific page.
General Settings
There are several additional options in the settings tab of MotoCMS life coaching website builder. In the general, you can find other opportunities, such as:
tools for working with updating the site;
multiple SEO settings, such as sitemap generator;
connecting analytics tools;
general font settings;
debugging feedback and redirection tools.
The setting is a summary. If for some reason you have changed the URL, this is where you can change it for all pages with one click. If you plan to expand the site, take advantage of a function embed code. We remind you that each option has a tooltip. Hover over the question mark icon for more information.
General settings of the life coaching website templates will help to make the final edits to the complete site. Save changes in one click and start other business!
Support Options
Curiosity is an excellent motivator for self-improvement. Replenish your knowledge with the support of the life coaching website builder. To do this, click on the Help Center button, which locates on the admin panel. What does MotoCMS offer to support its customers?
MotoCMS 3 User's Guide. You will find here a detailed description of the primary functions with screenshots.
Tips and advice on how to solve problems. Not sure how to load the site or activate the update? In the recommendations section, you can find solutions to the most common issues.
Typical errors. Unfortunately, there are several reasons why your site may not work. This section contains useful information about possible errors, as well as tips on how to solve them.
Online chat. If the articles from the info center did not solve your problem, you could always contact the support service. To start an online conversation, click on the pop-up button on the right side of the screen.
Life Coaching Website Builder from MotoCMS - Additional Offers
After you create the perfect site, you must save it and upload it to the server. If you missed something, do not be afraid, because you can always go back to the editing mode. When you are satisfied with the results of your work, do not forget to save the changes and go to the shopping cart. Buying one of the life coaching website templates allows you to use it on one domain. In just a few days you get a site utterly ready for implementation.
Establishing Your Brand
Do you want to be recognized? Create your brand! The presence of a significant and well-known brand automatically increases the cost of goods, and also attracts buyers. Creating such a brand is quite a costly business, both in time and in cash. But at the same time, it is not necessary to be a large corporation to make a name. Even an individual can create a brand using social networks and MotoCMS life coaching website builder.
In addition to the design of life coaching website templates, we provide services to create your brand. Our experts will prepare everything so that you can get a well-optimized profile in popular social networks.
Professional Logo Design Services
Did you know that the images you use on your site should be unique? Using ready-made life coaching website templates, you can take advantage of Unsplash integration in case you need to add some great stock photos. But what about the logo? It is not good to use the stock icon for the logo if you want to state a brand.
That is why MotoCMS logo design services come in handy. Our team of outstanding designers is at your disposal to emphasize your personality as a life coach. Just provide us with your business details and the primary concept you want to see in the logo and get the perfect one in 10 business days! By the way, up to three revisions are available!
Help with Pages Filling
With the help of the life coaching website builder, you will get a complete web page. However, the quality of future content and the frequency of updates will depend entirely on you. Only you choose what your site visitors will see on the site. Large corporations usually have separate marketing departments and a large team of copywriters. If you do not have time for this, you can always contact MotoCMS for help.
Our experienced copywriters will quickly create unique content for your site. In just a week, you will be able to fill the pages of life coaching website templates with original, plagiarism-free texts.
SEO Promotion
All pages on the site should be optimized for targeted search queries. For a newcomer, it's hard enough to figure out the SEO. It is not enough to familiarize yourself with the terminology and read a couple of useful articles.
Life coaching website builder has everything you need to optimize a website properly. Additionally, we can offer you the website SEO audit servicesperformed by industry specialists. Professionals will conduct a global analysis of the site and develop an effective marketing strategy. Do not spend too much time studying boring guides. Save your resources and entrust search engine optimization analytics to experts.
E-Shop in a Few Clicks
You have your brand with a cool logo, and your visitors want to see a full-fledged online store — no need to worry about creating a new site. Just install the eCommerce plugin and expand your business! We will help you to implement everything you need in life coaching website templates so that your website becomes a full-fledged online store.
MotoCMS Life Coaching Website Builder is The Best Choice
We surely can convince you that building websites is secure with MotoCMS! In less than a week you can get a ready-made online resource and start earning even more. Play an entertaining game with a life coaching website builder, the result of which will be a full-fledged website.
We have thought over everything to ensure that at a minimum cost you get the maximum of benefits. Ergonomic editor, operational support and a full range of additional services are waiting for you in every web template. Get started today and hit your customers with a brand new website!