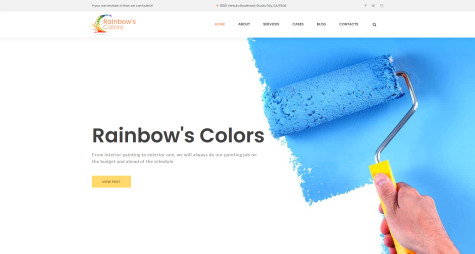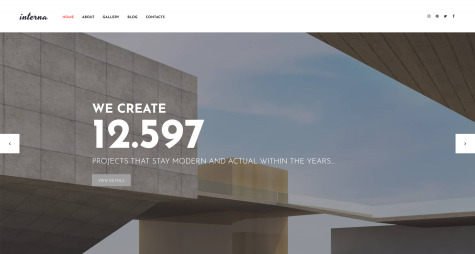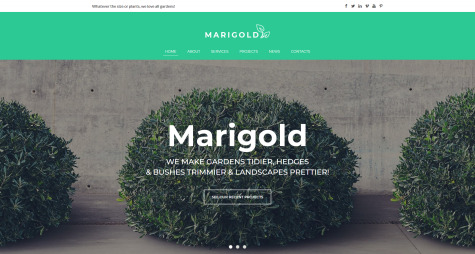 Marigold Exterior
Multipage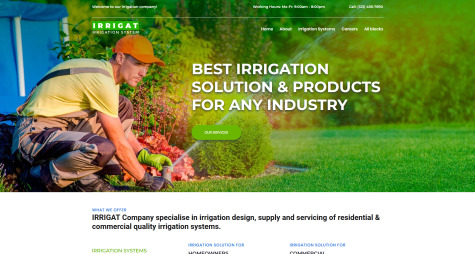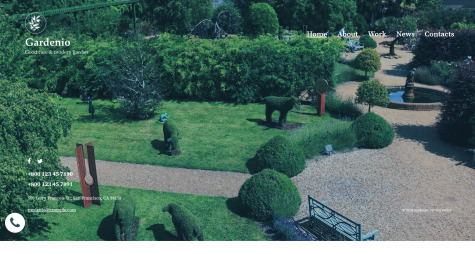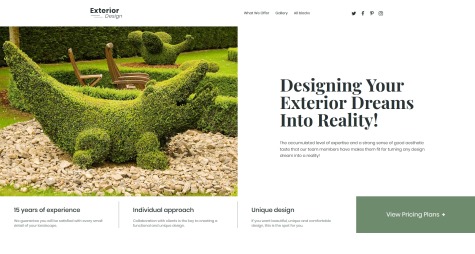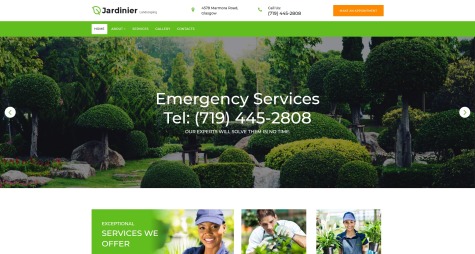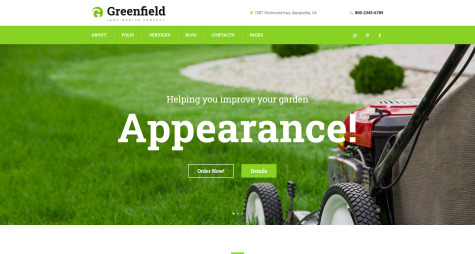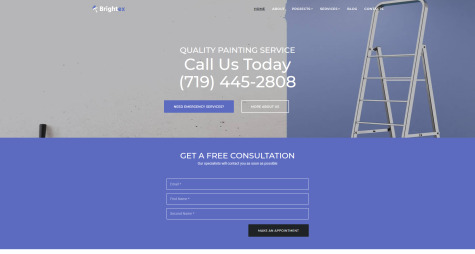 Sale Up To -20%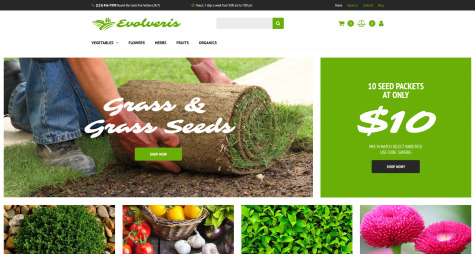 Mastery Landscape Design Website Templates by MotoCMS
All landscape website templates from this collection have a niche design that supplements with corresponding exterior design images. Full-width banners with rotating slides on the design company template will help you to represent the most creative exterior projects released by your company. The layout of these landscape design website templates has a lot of features that will help you to promote your services, attract new clients and stay in touch with your clients.
Services Listings with Detailed Description
Show all the services provided by your exterior design company using our landscape design website templates. Pre-built service listings imply text blocks arranged in a particular order and supplemented with attractive icons. The icons design is unique for each landscape website template from this collection. However, if you want to update a pre-built block with the services provided on the landscape portfolio template, you can easily do this with no coding. There is a large pack of ready-to-use icons presented in the landscaping website builder.
Flexible Galleries on Landscape Design Website Templates
Use galleries to showcase completed exterior design projects on your website. Landscaping website templates by MotoCMS have different galleries design with a fully responsive layout. To supplement the landscape website design with an amazing gallery, you need to upload photos and pick up a gallery design in the admin panel. The system will update their sizes and arrange all images by itself.
Hover Effects on MotoCMS Galleries
Additionally, image galleries on landscape design website templates have amazing hover effects that allow opening an image full-screen or supplement it with additional information. When a mouse pointer hovers over an image, extra information appears over this image. A large variety of design presets presented in the MotoCMS website builder allows you to update landscape design website templates in a few clicks.
Completed Projects Rating and Customers Reviews
Provide your clients with the ability to leave their feedback about exterior design services provided by your company with landscape design website templates. Positive feedback from verified clients on the landscaping web template will help you to increase the conversion rate and attract new clients. The feedback widget by Disqus provides the ability to leave comments, start discussions, rate products and services on your site in one click.
Online Appointment on Landscape Website Templates
Receive requests from clients online by using an appointment button on landscape design website templates. After clicking on this button, a contact form opens in a popup. The contact form delivers contact details to your email after submitting it. The contact form on the irrigation website template is fully editable, so you can easily adjust it according to your needs with no coding.
Exterior Biuro Location and Contact Details
Lead your clients to the nearest office with the help of Google Maps on landscape architecture website templates. After specifying your location at Google Map widget settings in the landscaping website builder, a location pointer will appear on the map. In case you need to add multiple location pointers on the map, there is the Google Map Pro widget with extended functionality presented. Landscape design website templates have all the necessary features you need to get the most out of your website.
MotoCMS Customer Care and Extra Services
Purchasing any landscape website template by MotoCMS, you will get a pack of additional services for free. These services include a free two-week demo, free 1-year software updates subscription, and 24/7 customer care. Our technical support specialists will resolve any possible issue and help you to build an amazing website with no effort.
Personal MotoCMS Account and Free 14-Day Trial
Try to build your website by using our landscape architecture website templates with no charge! Registering a free two-week trial, you will get full access to all the features of the MotoCMS website builder. Hence, you will be able to create new pages, add your content, and customize landscape design website templates with limits. Using a personal MotoCMS account, you will get the ability to manage your purchases and demo website templates easily.