Sale Up To -20%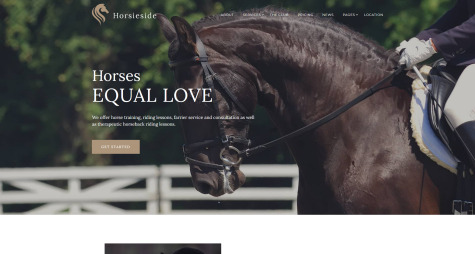 Horsieside Equestrian
Multipage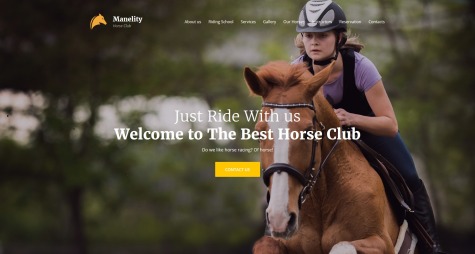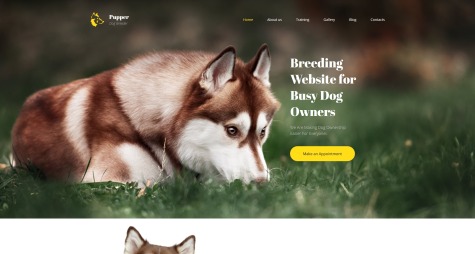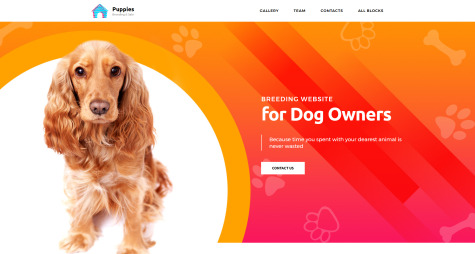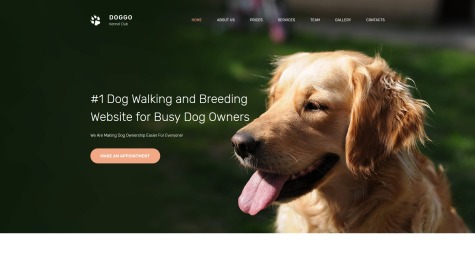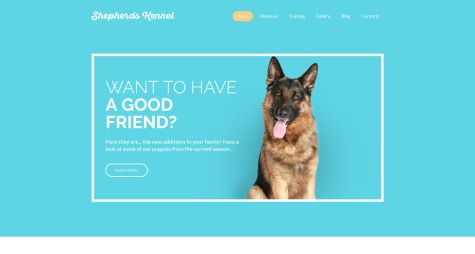 Shepherds Kennel
Multipage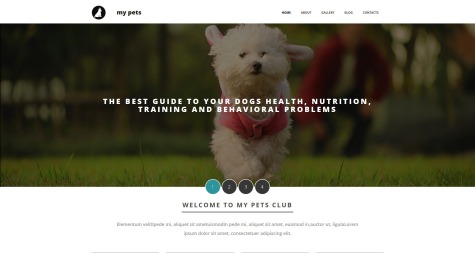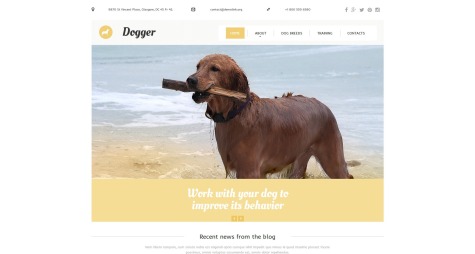 Dog Training Website Templates for Pet Lovers
Friendship with animals teaches us responsiveness and responsibility. Someones were lucky in childhood, so the issues of caring for pets are not tricky for them. And someones got a four-legged family member just now, so they are looking for information about the content of the pet actively. In any case, sites dedicated to dogs are in high demand, as evidenced by the variety of everyday goods and services.
If you provide services or products for pets professionally or plan to start working in this niche, a full-fledged website is a must-have. MotoCMS offers a fantastic collection of animal website templates that our pros have developed specifically for you. Ready-made dog training website design may be ideal if you don't know anything about programming and web development.
Top Features of Dog Training Website Templates
As in the animal world, in the world of high technology, only the most powerful and fittest business people survive. Therefore, you will need an uncompromising solution to provide your services and goods. A functional and attractive dog website template is the best tool for effective competition control. You will also be surprised to find out how easy it is to get a high-quality dog website without spending a lot of money and time. Dog training website templates from MotoCMS is a combination of the latest web design trends and constant technical features.
Incredible Adaptability
MotoCMS develop dog training website templates, taking into account the growing popularity of mobile platforms, so your future site is 100% adaptive. One will look amazing on all modern devices and in any web browser, adjusting to the screen size automatically.
Besides, the online editor allows you to configure the functionality to display on different gadgets separately. Choosing a dog training website design developed by our specialists, you get not only a ready site but also several versions additionally for:
desktop computers;
tablets;
smartphones;
laptops.
Easy Editing
The workspace of the veterinary website builder base on drag & drop - you can drag any element of the site with the mouse to drop it on the place you need. You can do the same thing with photographs, background pictures, and text. The number of settings and the possibility of customization will surprise you pleasantly. Change any dog training website templates as you need quickly:
delete and add web pages and content blocks;
upload photos to convenient galleries, add videos and audio files;
modify dog training website design, changing background images, fonts, ones size and color, headers;
implement SEO without the help of third-party specialists;
update the site in a few clicks, expanding the existing functionality.
Extensive Toolbase
To the addition of the standard features of the dog website template, we offer users a fantastic set of plugins and widgets. You can make your web resource more functional using the eCommerce plugin, mailing lists, feedback form, Google Maps widget, feedback block, as well as buttons and widgets of social networks. All these features available in dog breeder website templates also affect search engine rankings positively.
Vast Assortment of Dog Training Website Templates
Today, there are many industries in the field of animal care. Therefore, business owners usually have to spend more resources on developing the pet website design. However, with MotoCMS, this is not a difficult task for you! After all, all dog training website templates are universal and editable easily. On the pages of our catalog, you will find many that will help you occupy the desired niche, or create your own. You definitely won't fail using ready-made solutions for:
online pet stores;
veterinary clinics and dog kennels;
animal shelters & rescue centers;
dog walkers;
theme clubs for pet owners;
dog groomers and care professionals;
exhibitions and events for dog breeders.
Additional Opportunities with Dog Training Website Templates
Some solutions already have a built-in online store function - however, you can add these features to anyone. Do you like one page dog breeder website design, but you also intend to sell food and accessories? To do this, you need to add the eCommerce plugin, which includes product sections, shopping basket, and the possibility of processing delivery.
MotoCMS also does not impose any restrictions on the use of the built-in editor. For 14 days, you can modify any dog training website design for free. All functions and features are in the public domain. Moreover, after the purchase of the dog training website templates, you can return to editing the site repeatedly and update it regularly.
For example, you created an online store based on the dog website design, but at the same time, you want to keep your blog. In this case, you can easily add the functionality of the blog using the toolbar and publish articles in the future.
Get More Benefits with Dog Training Website Templates!
Caring for pets can bring not only pleasure but also profit. Owning a zoo store or hotel for animals is very profitable, given that pet owners spend more on their pets. Timely organization of the Internet resource will allow you to take advantageous positions in the market. If you have something to offer people and their pets, feel free, choose dog training website design and launch your site today!
If you still have additional questions regarding animal website templates, our professional support is ready to help you 24/7! Our specialists are prepared to answer your questions in a dialogue by phone, email, and online chat. In the Support and Learn sections, you can also find useful information about the website builder and articles with recommendations on creating animals' site.