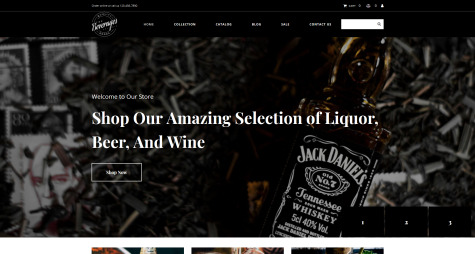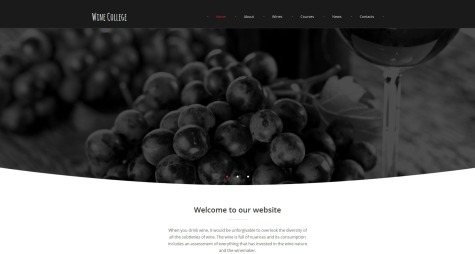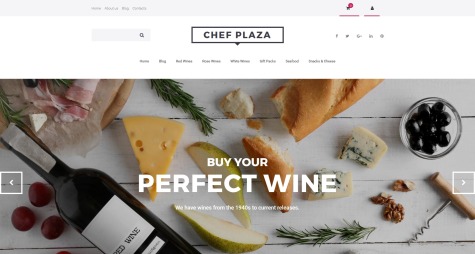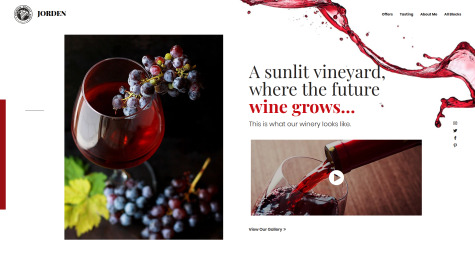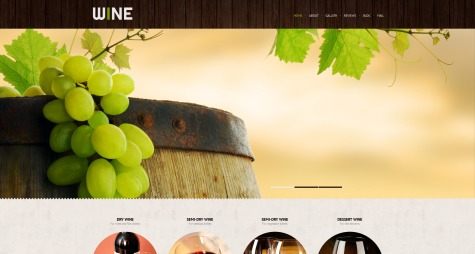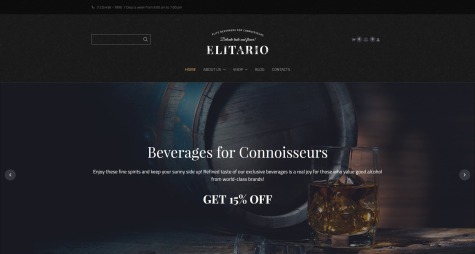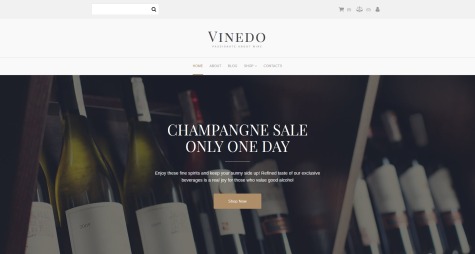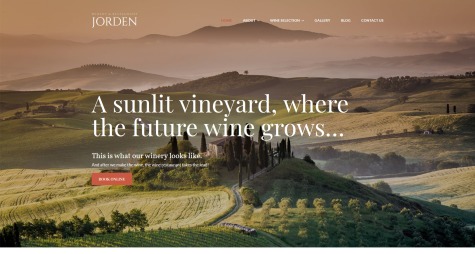 MotoCMS Wine & Winery Website Design Templates
We believe that customers' satisfaction is the best reward for companies. So, we try to facilitate different businesses in launching their websites. MotoCMS have amazing solutions for various organizations. If you have a small winery, you can build your site with our small business website builder. In case you want to make people know about your winery online, we can offer a wine landing page template. Whatever your demands are, our experts are here to help your winery or wine store succeed.
Wine Website Templates with Visual Builder Inside
With the MotoCMS visual builder, you don't have to learn coding to launch your website. Our site creator is based on drag-and-drop functionality. This is as easy as it sounds. To create your ideal winery website, you can edit pre-designed pages of winery website design templates. You can adjust different blocks to change the site layout. You simply have to place various items in the place you want to see them on your webpage. Also, you can customize the background, colors, and fonts to achieve the desired result.
Mobile-Friendly Winery Website Design
As many people prefer using mobile devices to browse the Internet, companies should care about the look of their sites for different users. Any wine website design template by MotoCMS is responsive. In other words, you don't have to create separate versions for desktop computers and mobiles. Your website will automatically adjust to different screens. It doesn't matter if people find your site through a computer or a mobile. You can always be sure that your site will look good for everyone.
Collection of Templates for Best Wine Website Design
MotoCMS takes care of different businesses by creating niche-specific templates. So, you can browse our collection of wine and brewery templates to find the one you love most. In any case, you will get the best wine website design that will meet your business needs and requirements.
Exploring the collection of winery website templates, you can see a live demo version of each template. You can see the peculiarities of each design to know what your site will look like before purchasing the design. Moreover, you can start building your site for free during the 14-day period. Thus, you can make sure that you have opted for the most suitable template.
Ecommerce Functionality Combined with Perfect Winery Website Design
If you want to run a wine store, our wine website design templates are at your disposal. Empowered by eCommerce functionality, our templates will let you create a powerful store to satisfy your customers.
With wine shop website templates by MotoCMS, your online store will be convenient to use for your clients. Furthermore, you will be able to manage it yourself. So, pick an appropriate wine store website template and build your shop.
Trouble-free Buying with Wine Website Templates
To guarantee that your clients will make purchases and won't leave your wine website without buying goods, it is necessary to have an understandable shopping cart. Using winery website design templates by MotoCMS, you will create a store with a simple and functional shopping cart.
First of all, you can give customers a choice whether to continue shopping for wine or to check out. In our templates, there are precise buttons that show users the possibility to return to the store or to check out. Secondly, you will attract clients if you allow them to enter discount codes and save money while buying goods.
Moreover, the design of our wine website design stores suggests communication with clients. You can insert a special field for users' comments. Thus, buyers will be able to add their wishes while making purchases in your wine store.
Efficient Widgets for Winery Website Design
Our winery website templates have everything to create an engaging wine website design. Mainly, you can enhance your site with a multitude of widgets included in the templates.
You can use counters and progress bars for showing different statistics. For instance, you can display the number of brands you cooperate with and the number of wine collections in your store. Also, counters and progress bars can reflect the number of your happy clients or types of grapes you use for wine production.
Similarly, you can use accordions to present answers to the frequently asked questions. Your winery website visitors will see the information they need by clicking on the appropriate question.
Contact & Subscription Forms for Communication with Customers
To ensure constant support with clients, our wine website templates pay special attention to the contact form. Your site visitors will see your contact details easily. Moreover, you can include a map and mark your wine store's location on it. To encourage clients to stay with you, you can add an appealing subscription form.
Create Eye-Catching Winery Website Design in Several Steps
Although the website creation process may seem to be difficult, MotoCMS company is always by your side. Our website templates will help you create a magnificent site to attract people to your winery or store. Look at the tips below and start creating your web page.
Display Collections of Wine with Winery Website Design
Whether you manage a winery or a wine store, presenting your wine selection online is one of the most important tasks of your website. With wine website design templates by MotoCMS, you can showcase your wine assortments. Create different store product categories, such as red wine, white wine, rose wine, champaign, etc., and manage them with ease.
Besides displaying wine selections, you can show different accompanying dishes. Moreover, you can give clients the possibility to download a full menu with detailed specifications and prices.
Organize Product Pages Effectively with Wine Website Design
Apart from creating product categories, it is essential to provide customers with detailed descriptions of beverages. Using our wine website templates, you can manage your goods easily. You can add multiple images and assign tags to products. These tags will be useful when people are looking for particular items. For instance, on the website created with a liquor store website template, clients will be able to apply filters and get better search results.
Arrange Amazing Galleries
Galleries are a great tool to introduce people to your winery or wine store. Adding high-quality photos, you can show customers the interior of your winery. Also, you can intrigue people displaying different moments of the wine production process. Besides, images can emphasize the traditions and modern technology use at your winery. With the winery website design by MotoCMS, you can create appealing galleries easily.
Showcase Your Services with Winery Website Design Templates
If your company has multiple services and combines a winery with a restaurant, for instance, you can display your services effectively with our templates. You can tell visitors about the catering that you offer. Moreover, using our templates, such as a bar website template, you can add a booking form. It will allow customers to make a reservation of tables at a bar or restaurant. Users will appreciate the possibility to book online their visit to your winery, bar, or restaurant in advance.
Speak about Your Team
Our winery website designs will also let you present information about your staff. You can create profiles of your sommeliers, waiters, winery guides, or shop assistants.
Organize Events Effectively
If you have excursions to your winery or vineyard tours, you can display information about them on your site. Also, you can announce different workshops and wine tasting to attract clients. Hopefully, you'll get winery website design inspiration from our templates.