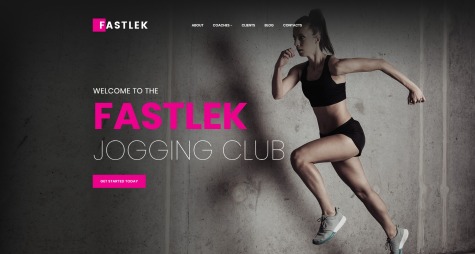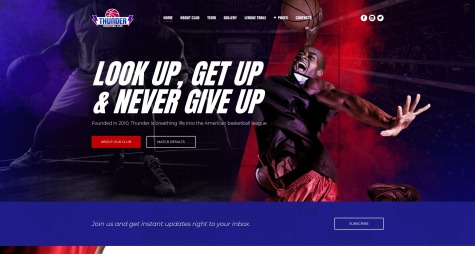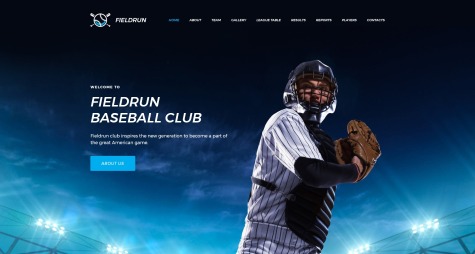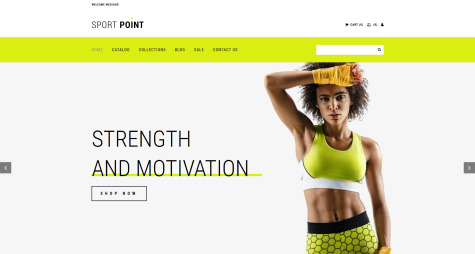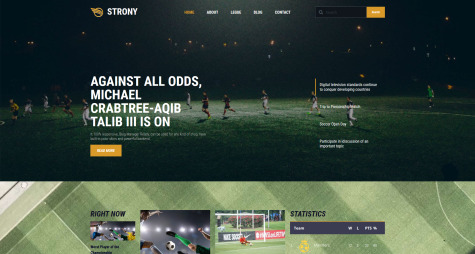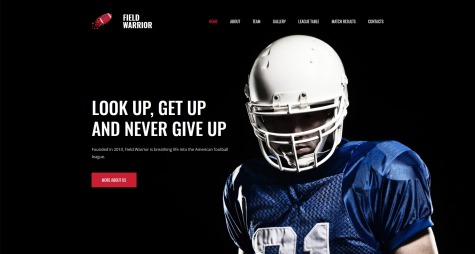 Sports League Website Templates for Expert Observers
All sports website templates from this collection have a multipage design with pre-built elements. Pick up the best crossfit website design that suits all your requirements and get a package that includes a ready-to-go website with the best content management system. MotoCMS sports league website builder provides everyone with the ability to create web-pages with custom design and update their content with no coding. Let's review the top features of these sports league website templates.
Match Results & Games Schedule
One of the main purposes of a sports website is to provide the latest game results, team statistics, and match reports. Hence, the layout of our sports league website templates contains a large variety of professional elements that help to keep your website users updated with the latest news in a few clicks. MotoCMS sports league website builder allows updating statistics on the golf club website template by using an online tool launched in a browser.
Live Streaming and Online Videos
Feature-rich functionality of the MotoCMS website builder allows you to broadcast live videos on sports league website templates and add an unlimited amount of videos. Also, you can embed videos from YouTube and Vimeo in a few clicks. To share a video from these video-hostings, you need to add the video widget in the admin panel and specify a link to a particular video or a live stream.
The built-in video player allows you to add videos in various formats, configure their placement, and add preview images. Moreover, you can add a video as a block's background, mute and autoplay it by default on the american football website template.
Vivid Galleries on Sports League Website Templates
A large amount of galleries layouts allows adding new photos frequently by uploading them to the media library. The sports league website builder makes all the necessary adjustments by itself to fit the screen width. Thus, you can add photos that have different dimensions with no need to resize each photo before uploading it on a site. By using galleries and rotating sliders, you can add photos of the latest matches and show team players on the basketball league website template.
Player Profiles
The multi-page layout of sports league website templates allows creating an unlimited amount of player pages. A player's page consists of detailed information about a sports team member. You can easily show a player's parameters and add the history of his career. Moreover, you can display professional achievements with the help of progress bars and add an icon that leads to a social media profile of a particular player.
Easygoing Customization with MotoCMS
MotoCMS admin panel integrated to all sports league website templates and launches in any browser. The sports league website builder provides the ability to create a sports website and update its content without editing even a line of code. Thus, no technical expertise is required to create a full-featured website that looks great on all devices.
Drag and Drop Website Building
Move and configure widgets on sports league website templates easily with the help of the drag and drop functionality. To add a new component on a website, you need to pick up an appropriate widget and put it on a particular place on the football website template. Thus, you can build the best sports league website design and update the content frequently with no coding.
Fully Responsive Layout
More than half of all users use mobile devices to access the internet nowadays. Thus, it is vital to create a website that displays the content great on both desktop and mobile devices. The best website builder for sports league scales images and arranges a layout by itself. You need to customize the desktop version and configure widgets' behaviour on mobile devices only. The system will perform all the necessary adjustments for you automatically.
Design Presets for All Widgets in Sports League Website Templates
Create a sports league website in one day with MotoCMS. Each widget has pre-built design presets that help to change a website's appearance in one click. If you don't like the design of a particular element on your site, pick up a new design preset for this widget in the sports league website builder.
All design presets are unique and match the colour scheme of a specific website template. However, if none of the design preset available suits your website design, you can update any of them to apply new shapes, colours and fonts.
One Click Settings
MotoCMS admin panel allows you to set up sports league website templates by using a mouse in your hand only. The admin panel performs all the backend settings in the form of checkboxes and drop-down lists. Thus, you can add widgets, apply backgrounds, setup SEO settings and inject custom code with no effort by using the online application integrated to the running website template.
Adscititious Features and Integrations
There are a lot of advanced services on the internet, and it is hard to replace them with default features. Thus, our developers integrated the most popular online services to sports league website templates. Engage your website with professional online tools that work well on all devices.
Commenting System by Disqus
If you want to provide your website users with the ability to leave messages and comment on blog posts, you need to enable comments in the sports league website builder. The commenting feature provides by Disqus, which is the niche-leading company. You can enable comments on sports league website templates in just a few clicks. Add the appropriate widget in the admin panel, then copy your Shortname at Disqus and paste it into this widget.
Google Services
Google provides leading-edge online tools that make our life easier and save time for free. Navigate users to a particular place with the help of Google Maps. You can use the simplified version of the Google Map widget to add a default map on sports league website templates. If you want to add multiple pointers on a map and update its design, use the advanced Google Map widget. Also, you can add Google Captcha to contact forms to protect yourself from bots.
Add the search field by Google to gain your site and allows users to find information on the sports store website template quickly. MotoCMS sports league website builder allows configuring the appearance of the search bar directly in the admin panel. Moreover, sports league website templates support all Google Fonts and Google Calendar. Use a calendar by Google to schedule events, accept invitations online and apply any font from the Google library that consists of more than 900 fonts directly in the admin panel. Do not hesitate to use Google services to upgrade your website.
Free Pictures and Online Image Editor
One of the world's popular photo-stock is available in the sports league website builder. The Unsplash app opens into a popup in the media library. You can find new pictures and download them directly into the media library in a few clicks. All pictures are license-free and can be downloaded with no restrictions.
If you need to update pictures on sports league website templates use the online image editor integrated to the media library. Flip, crop, or rotate images quickly by selecting a photo and clicking on the edit button. MotoCMS admin panel opens the image editor into a popup uploading the chosen picture. Additionally, you can add shapes, icons with text, apply filters and draw on images without using third-party software.
Extra Services to MotoCMS Sports League Website Templates
The key feature of our company is 24/7 customer support. We provide online assistance via live chats, emails, and phone calls per request for free. If you have any questions regarding our products, feel free to contact the pre-sales team. Our pre-purchase managers will answer all your questions and help you to choose the best website template. In case your MotoCMS website template works incorrectly, refer to our technical support. Our tech support team will fix any issue for free.
Pick up the best sports league website design and register a free two weeks demo to examine the system. You can check any aspect of MotoCMS sports league website templates and create a professional sports league website for free. Once your demo template is ready, we will provide you with all the changes from your demo account.