Sale Up To -20%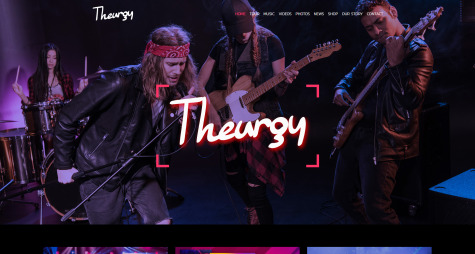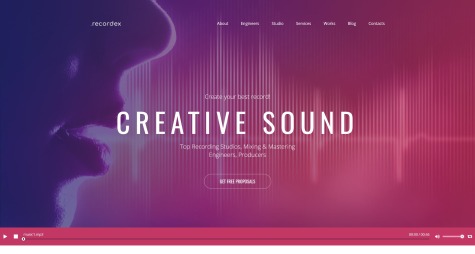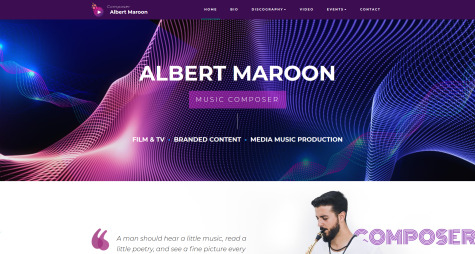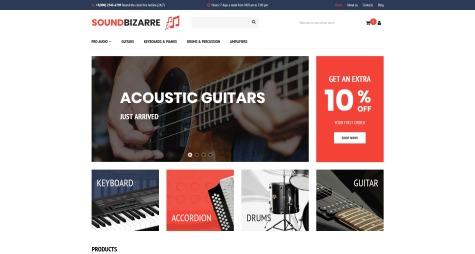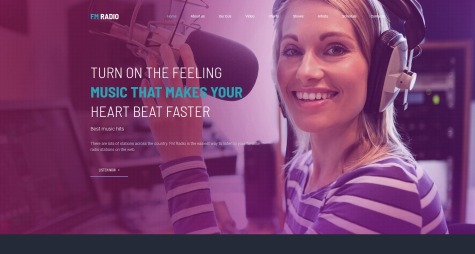 Sale Up To -20%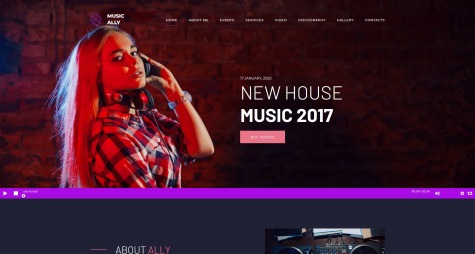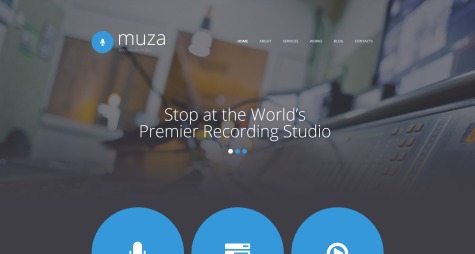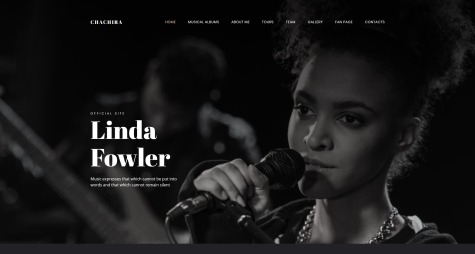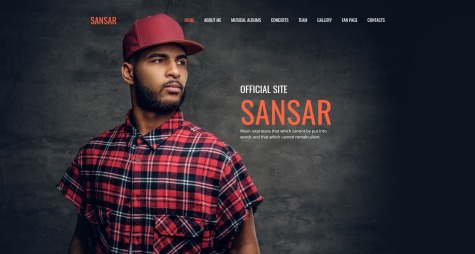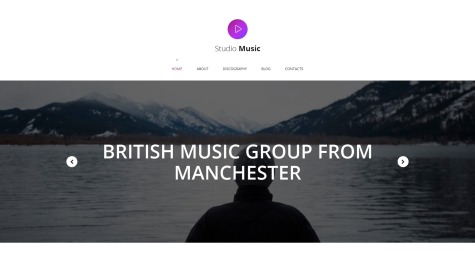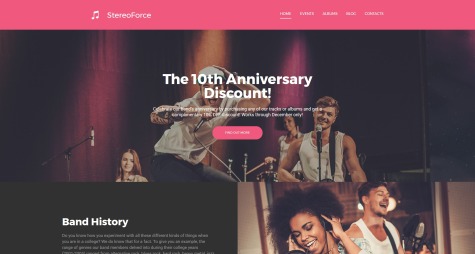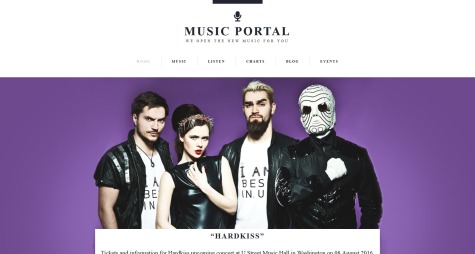 Vivid Design of Record Label Website Templates
The design of record label website templates has a lot of attractive components. All music website templates from this collection impresses at first sight due to the creative design, captivating color combination, and impressive animation effects.
Gorgeous animations and unusual shapes were developed especially for the podcast website template and other niche-related website templates. All internet resources become adaptive for mobile devices because the major part of internet traffic comes from mobile devices nowadays. Hence, it is vital to make a website that looks great on both mobile and desktop devices.
Fully Responsive Layout of Record Label Website Builder
The best website builder for record label companies reconfigures the layout of the music band template by itself. It helps to display all components of record label website templates correctly on various devices with a different screen dimension. There is no need to create sub-version of your website separately. The system will do this for you.
Moreover, there are a lot of settings in the record label website builder that allows configuring the behavior of your website on mobile devices. You can easily set the logic oт how the system re-places widgets and adjust their size. Additionally, you can hide particular elements and on specific devices. Thus, the system will hide large photos and videos on mobile devices to save cellular data of mobile users and increase loading speed on smartphones. The fast page loading speed will positively affect your website's ranking at Google Insights.
Full Screen Banners in Record Label Website Templates
Full-screen elements allow to build attractive banners and create record label website with the design that corresponds to the latest trends in web development. The music composer website template has full-screen blocks with a unique design. A block with the full-screen design creates easily in the admin panel. The system stretches the content horizontally by default. Additionally, you can adjust any block in the record label website builder to fit the screen height. Hence, the admin panel will stretch a block with content horizontally as well as vertically by itself.
Appealing Animation and Hover Effects
Check out the design of the record label website templates. The recording studio website template has charming visual effects. Hover effects gain user experience and help website users to interact with websites. Create a record label website that corresponds to actions and engages your website visitors in a few clicks with MotoCMS. You can apply hover effects to blocks with content, buttons, text, icons, and other navigation components. When a user hovers a mouse over a particular element, it changes its color notifying a user about what component is selected now.
A wide range of animation effects is available for applying to record label website templates. Animation effects add interactivity to a website. The animation starts when a user scrolls to the place with animated components. You can preview animation effects directly in the admin panel and apply them to any element of your website even if you are a novice in web development and have zero coding skills.
Cutting-Edge Record Label Website Builder
All record label website templates have an advanced drag & drop website builder integrated. The composer makes the process of updating the design and adding the content simple and easy. There are a lot of helpful features integrated into the system that helps to build a fully-functional website for a record label company. Let's check the most efficient features presented.
Audio Player & SoundCloud Integration in Record Label Website Templates
It's hard to make a complete record label website without a professional audio player. MotoCMS record label website builder allows uploading audio files to the media library in one click. The amount of audio files available for uploading depends on the available web space on your server only.
Your website visitors will be able to listen to music on your site conveniently. An audio player adds on a website by dragging the corresponding widget in the admin panel. The interface of the audio player on record label website templates allows to play & stop music, jump to a particular place on a track, configure the volume and replay a track.
The integration with SoundCloud helps to share songs from this audio streaming service to the radio station website template with no effort. Only a track ID or its embed code is required to place the audio widget from SoundCloud on your website. The record label website builder provides you with the ability to display the audio player on all devices or desktop devices only.
Video Players on Record Label Website Templates
Adding a video you make your website more reliable and professional. Thus, do not hesitate to add videos on a record label web template to show your mastery in a particular field. Also, a well-made video will increase the page rank and allow users to stay on your site longer. An online video player provides you with the ability to create your video-portal on the Internet. You can add an unlimited number of videos and arrange them as you want. Use the video widget to translate a video from YouTube or Vimeo on record label website templates. Also, you can share live streams from YouTube by using a video's URL address only.
A video player has all control buttons and adjusts its size according to the screen width. In case you want to add videos directly on the DJ website template, use the video player widget. Upload your videos in the media library to display the videos on your site only. The video player developed by the MotoCMS team supports the following formats: MP4, AVI, SWF. Additionally, the record label website builder allows adding a preview image and configuring spacings with no coding.
Advanced Image Library
MotoCMS record label website templates have a leading image library. The media library allows you to upload any files on your server and manage them by using an online tool only. You can easily sort media files by filetype, name, or creation date. The system arranges all files arranged by folders built in the hierarchy structure. You can create, update, delete, and rearrange folders in a few clicks. After clicking on a file in the media library, the detailed information about this file displays in the right sidebar. Moreover, you can preview images in the original dimension and edit them by using a built-in image editor.
Online Image Editor
The image editor opens in a popup and provides a wide range of professional online editing tools. Rotate, flip, and crop images to adjust them according to your website design. Make notes by adding some text or highlight some elements on images by using the draw tool. Furthermore, you can improve pictures on record label website templates by adding custom shapes and icons or applying different masks and filters. The image editor creates new images in the media library, so the applied changes do not affect original images on the music band website template. If you don't enjoy the result of your editing, try again. The system won't change the design of your website template.
Blog on Record Label Website Templates
Blog is an efficient tool on any record label website. By using a blog on your site, you can post daily news and keep your website visitors engaged by posting articles with helpful and interesting information. Furthermore, blog posts attract new visors from the Internet. People search for some info and pictures on the web and visit your website if the info or pictures from blog posts on your site are useful for them. Thus, do not hesitate to keep your blog updated to attract free traffic from Google search.
Posts Manager
The blogging tool on record label website templates has an advanced posts manager. All posts can be tagged and categorized in the admin panel. Use it for creating new posts and managing the existing ones in the record label website builder. The admin panel displays all posts in the form of a list. You can sort your articles by name or creation date in the admin panel. Moreover, you can delete, update, and duplicate posts in a click. If you want to provide your website visitors with the ability to left comments, you should enable this feature at blog settings. The commenting system provides by Disqus and connects by adding your short name only.
Blog Pages Editor
Create new posts and arrange the content on record label website templates easily. The process of creating a new post takes a few minutes thanks to pre-built pages with content. You can update the content on ready-to-go blog pages using the drag & drop functionality. Additionally, you can add any widgets on blog pages, including videos, maps, rich-content widgets, etc. The advanced blogging tool allows you to add a title with a preview image and configure a post's visibility with no effort.
Moreover, you can configure SEO settings and add Open Graph meta tags directly in the record label website builder. The Open Graph meta tags help to set the appearance of posts shared from your website to social media. You can easily specify the main image, title, description, and URL address to make the posts shared from your site look good. The SEO settings imply the meta title and meta description. Additionally, you can specify the canonical URL address and forbid Google Crawl robots to index a blog page on record label website templates.
Additional Services for MotoCMS Record Label Website Templates
Purchasing a record company website template from MotoCMS you get a pack of extra services for free. The pack of additional services includes a personal MotoCMS account, free 1-year software updates, 14-day trial, free user's guide & video tutorial, and 24/7 customer care. Moreover, you can participate in the loyalty program. Accomplish tasks provided by MotoCMS and get discounts for further purchases.
Software Updates in Record Label Website Builder
All record label website templates come with a free 1-year software updates subscription. The MotoCMS team releases new updates monthly. Each software update brings new features and improves a website's functionality. When a new update is available, you receive a notification in the admin panel.
The best website builder for record label websites installs new updates by itself. There is no coding and source file editing required. MotoCMS developers review the list of customers' requests and release the requested features first. Thus, if you want us to develop new features for MotoCMS your website, feel free to contact our customer care team. Our specialist will assist you 24/7 via live chat, emails or phone calls for free!
Free 14 Day Trial
We provide the ability to try any of record label website templates free of charge. Pick up a website template with a most suitable design and register a free 14-day trial. There are no restrictions in the demo. Hence, you can try all the features that the record label website builder provides for free. Pick up a template, customize it in a free two-week trial and purchase a website template with all the changes already applied!