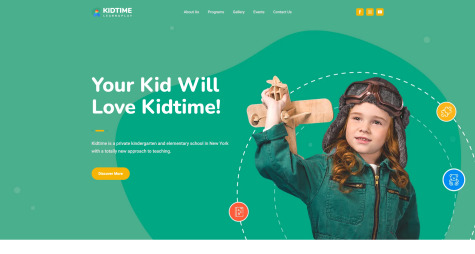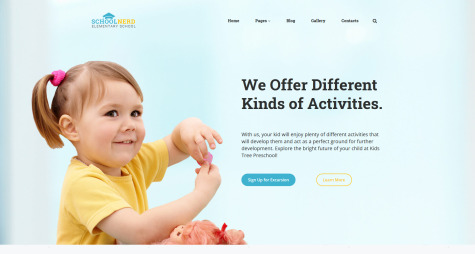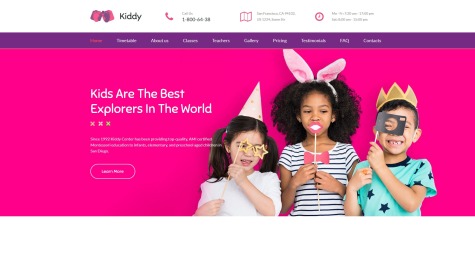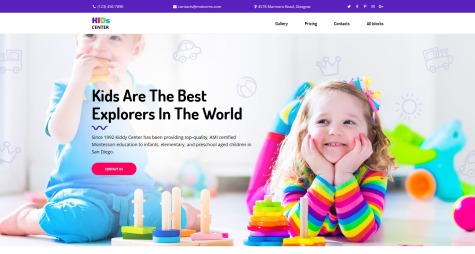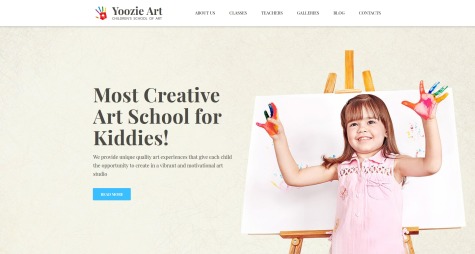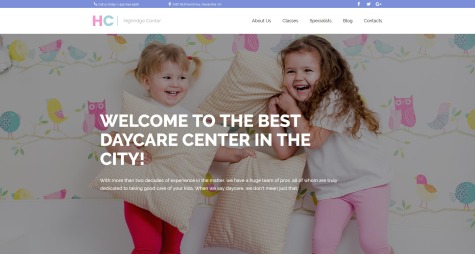 Highridge Center
Multipage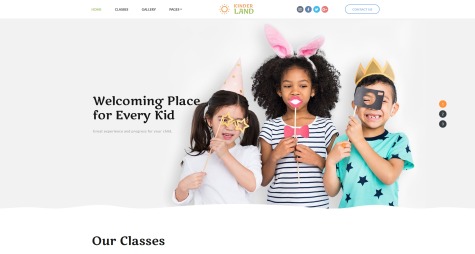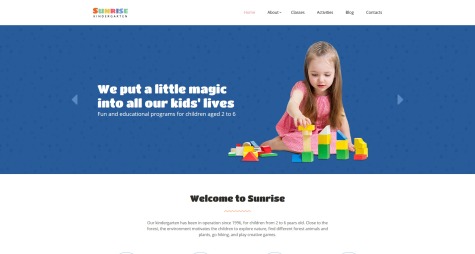 Sunrise Kindergarten
Multipage
Why Use Kindergarten Website Templates?
There are several reasons why you can benefit from kindergarten school website templates by MotoCMS. Have a look at the most important ones.
1. Outstanding Niche-Specific Design
Our professionals take into consideration the needs of various companies while developing and designing website templates. So, you can be sure that your theme will meet your requirements, no matter how specific your requests are. Among education website templates, you can find various designs to create a site for a kindergarten or a childcare center. For instance, with a daycare website template, you can build a magnificent site devoted to a daycare center for different children.
2. Responsive Layout of Kindergarten Website Templates
If you create a kindergarten website with the help of our school website builder, you will automatically take care of all Internet users. It doesn't matter what device people will use to browse your site. Our templates feature a responsive design that will make your pages adjust to various screens and browsers. Hence, you can stay assured that your site will be properly displayed on personal computers, tablets, smartphones, and so on.
3. Easy-to-use Admin Panel of Kindergarten Website Templates
Even if you don't have any experience in website creation, you can manage to build your kindergarten website on your own. Any kindergarten website template by MotoCMS has an intuitive drag-and-drop visual builder. Thus, you don't have to acquire coding skills to launch your site. You can arrange elements of your pages yourself, simply dragging them into the most suitable positions. What's more, you can have a kindergarten website templates free trial before you make a final decision to purchase it.
4. Fast Loading Speed
To launch a website that will load fast, you should use our preschool website templates. Our experts have optimized them to make them load quicker. So, your site visitors won't have to wait for the pages to appear on the screen. They will see the website soon after they open a link to it.
Create Your Site Easily with Kindergarten Website Templates
Choose any kindergarten website design that you like most and launch your site effortlessly. Our website templates contain pre-made pages that will facilitate the process of site creation greatly.
Tell Some Words about Your Kindergarten
If you want to get the best kindergarten website design, start with presenting your company in general. On the About Us page, you can tell your website visitors about your history and mission. Also, to make your kindergarten more compelling, you can add information about your awards. Our play school website templates will assist you in making a lasting impression on people.
Showcase Your Classes
With kindergarten website templates, you can describe the programs and classes that you offer to children. You can give details about courses for toddlers, infants, preschoolers, etc. Thus, parents will definitely know what their kids will study. Also, you can provide explanations on the methods that your educational establishment prefers.
Create Timetables with Kindergarten Website Templates
You can make understandable timetables to display on your site with the help of our kindergarten website designs. So, people will know the exact information about the time and duration of your classes. To create clear-cut schedules, you can use the widgets embedded in our templates. Just insert your information and visualize timetables efficiently.
Introduce Teachers
Undoubtedly, parents are eager to know who will teach their kids. People want to trust teachers fully, so displaying information about your staff is really essential. With kids school website templates, you will easily create a page telling visitors about your workers. Additionally, you can link information about each staff member to their profiles on social media. So, customers will be able to see who takes responsibility for their kids at a childcare institution.
Display Pricing Plans
If you offer different programs at your kindergarten, it is necessary to present the pricing plans effectively. With kindergarten templates, you can clearly indicate how many classes, meals, and other elements each plan comprises.
Create Attention-grabbing Galleries with Kindergarten Website Templates
Pictures speak louder than words when you need to tell visitors about your kindergarten. Using our kindergarten website design, you will be able to create impressive galleries easily. Particularly, you can add a multitude of photos to show your premises, classroom activities, events and celebrations, camps, etc. When parents see such images in their own eyes, it makes your company more credible. Furthermore, you will enjoy working with the media library, changing and adjusting your images to look perfect on your pages.
Run a Blog
Your blog can be an effective tool for guiding parents. Here, you can provide useful advice on helping kids to get used to kindergarten studies. Also, you can provide tips on how to choose activities for children. In fact, the possibilities of a blog are limitless, and you can use them effectively with our kindergarten website templates.
Don't hesitate to choose your perfect kindergarten website design and start building your site!