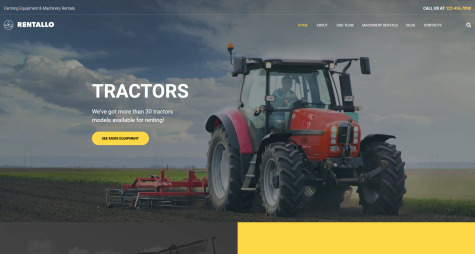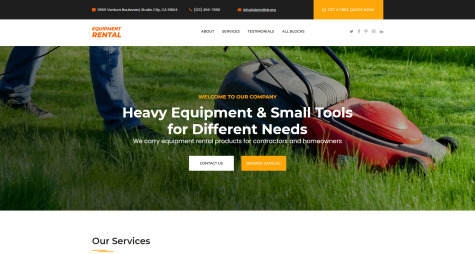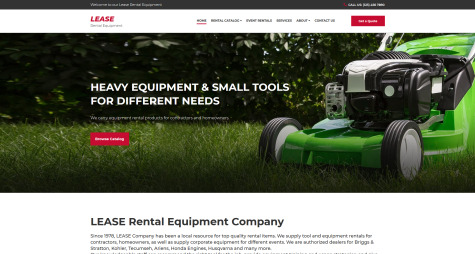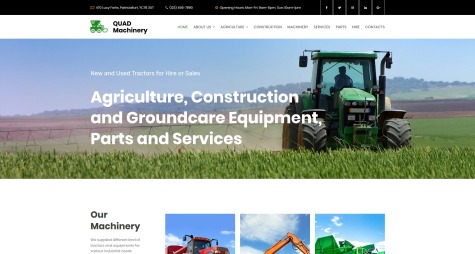 Equipment Rental Website Builder from MotoCMS
The fantastic design of MotoCMS equipment rental website templates lures at a glance. No custom coding or side software applications were used creating the layout of the maintenance services templates by Moto CMS equipment rental website builder. All widgets combined and colors matched by professional web developers with colossal experience in web development. You can pick up a template with a design that meets all your needs and update by using premade design components available in each template.
Fully Responsive Layout
The best website builder for equipment rental by MotoCMS has fully responsive layout and a wide range of convenient settings for configuring a website's design on different devices. Thanks to the adjustable layout, components and fonts the equipment rental website template looks great on any device. The system reconfigures a layout on various devices by itself following the applied setting.
Product Listing in Equipment Rental Website Builder
Product listing is the basic component of any tractor website template. Using a list of products, you can represent all equipment available for renting and inform visitors about pricing. A list of products creates rapidly in the admin panel by using the row widget that divides into six columns or less.
MotoCMS rearranges all columns to fit the width of any device automatically. The amount of rows that available for placing on a web-page is limitless. You can easily manage your website and update the products list with actual images, prices and description in a blink of an eye.
CTA & Convenient Advertising
The visual appeal of MotoCMS website templates attracts visitors from the first sight and convert a user into a loyal customer. Equipment rental website templates filled with compelling call-to-action that approach a website visitor to make a purchase or submit a call-back request on your site. Additionally, you can place a list of services provided by your company or add testimonials on a website in a few seconds. Each component on a website duplicates in the website builder with no effort.
Comprehensible Equipment Rental Website Builder
MotoCMS provides excellent tools for editing a website and crafting a new design from scratch. The ease of MotoCMS backend application that boxed with all templates makes the website building process fast and easy. Grab a website template and update the content by using the equipment rental website builder within a day. MotoCMS website builder launches in any browser and keeps all the progress stored online. You can build and manage your hardware store website template from different locations.
One-Click Composing
Create new pages with unique design in one click by composing ready-to-use widgets in a particular layout and pick up a design preset presented in the equipment rental website builder. Additionally, equipment rental website templates have various pre-built blocks with content to create a new web-page quickly by dragging blocks with content from a sidebar. You can easily arrange blocks and widgets in a particular order.
To change the color scheme of a website, you need to select five new prior colors in the admin panel. Other colors will be automatically picked up by the system to keep the overall design of a template solid. No education is required to start working with the equipment rental website templates. The interface of the admin panel is intuitive and constant.
Advantages of MotoCMS Equipment Rental Website Templates
MotoCMS customers have immense advantages and receive an ample pack of extras purchasing an equipment rental website template. All extra services provided by MotoCMS company for free and make the process of editing and managing website templates more convenient. The pack of extras includes the following odds:
a full-board access to user-guides and video tutorials;
access to a personal MotoCMS account;
the ability to test any template for free;
free 1-year updates subscription;
24/7 technical support.
MotoCMS Account and User's Guide
Purchasing a template or registering a free trial you get a personal account that grants access to the complete user's guide and video tutorial for free. A MotoCMS account allows you to manage your purchases and trial templates, rebrand templates in one click, participate in the loyalty program, and submit a request to the support team. Complete step-by-step instructions on how to use the equipment rental website builder and apply any modifications are available for free.
Software Updates Subscription
All equipment rental website templates receive free first-year software updates. The package with updates includes the equipment rental website builder updates & theme updates. Both software updates don't affect your website design. The updates bring new features to the system and add new design presets for ready-to-use components.
Free Customer Care & Demo Templates
Pick up one of MotoCMS equipment rental website templates and register a free 14-day trial to examine the system for free. Feel free to reach out to the customer care team via online chats, email, or phone calls anytime if you have any questions or face any problems editing a website. MotoCMS customer care team works 24/7 for free.
Start with MotoCMS Equipment Rental Website Builder Today
MotoCMS is an all-in-one website building platform that provides everything you need to launch a successful web project for equipment rentals effortlessly! Select the best design for your future site and create a professional website yourself with ease!