20 Best Free Drawing Apps to Use in 2017
The design industry has been developing at the fast speed these days. As a result, more and more artists choose unconventional tools to express their personal vision of the world around. Applications for mobile devices are definitely among them. You are welcome to check out 20 free drawing apps for Android and iOS and choose the one that suits you best!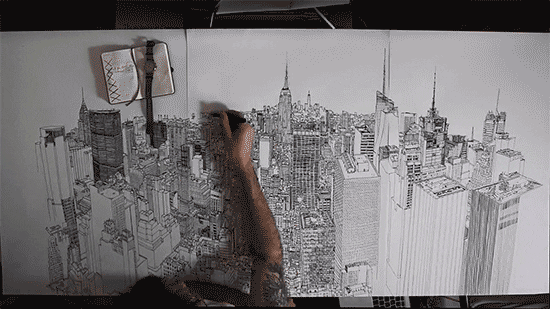 Adobe Illustrator Draw
The combination of the modern interface and the rich functionality makes this mobile application the number one choice for many designers. One of its main advantages is that it belongs to the Adobe family, this allowing incorporation with other Adobe products.
Animatic
If you are good at creating hand-drawn animations, this instrument is what you have been looking for. You can always upgrade it to Animatic Pro or simply enjoy the amazing available functionality.
ArtFlow
The painting engine of this application is powerful and elegant at the same time. The new universal brush support makes this tool even friendlier than you can expect.
Assembly
In this application, a user can take advantage of a huge collection of shapes to create eye-catching logos and icons. Developed to suit the needs of the graphic designers, Assembly is praised for being simple and intuitive.
Ibis Paint
This application is created to suit the needs of those who enjoy social drawing. It gives you a chance to share videos about the process of creating your drawings. Moreover, it boasts quite a number of useful brushes, colors, and layer modes to facilitate your creativity.
Concepts
This tool is multi-functional and can be used by designers of all skill levels. Enjoy its rich color palette and the measurement tools. You can create beautiful sketches with the five layers available in the free version. Another idea is to go Pro and get amazed by the infinite layers!
Draw Free by David Porter
Realistic drawing tools, i.e. a pencil, a brush, a crayon, and a bucket, make this application a real godsend. Draw Free is developed for both professional designers and beginners including children. It is a truly universal instrument to create visually attractive drawings.
Tayasui Sketches
Unlimited layers and numerous brushes will help you to bring a sparkle of life to any of your design ideas. Add depths to your drawings with the unique gradient and color mix.
Draw Fun
This instrument includes various stickers, brushes, and nine ready to use filters. Its intuitive interface turns the drawing process into a real artistic adventure. It is also important that you can track all the history of a specific drawing when sliding left.
Drawing Desk
This tool is unique thanks to its four modes. Designed for children, fans of doodling and sketching and photographers, Drawing Desk is definitely worth a try. It contains the attention-grabbing color palette and amazing brushes. Drawing Desk is all you need to create stunning images in the blink of an eye.
Infinite Painter
This application is created for artists who love blending colors and enjoy modern symmetry tools. The available patterns and gradients make your drawings truly unforgettable. With Infinite Painter, you can even create your own brush!
Inkist
Inkist is an advanced piece of software that is easy to use and fun to work with. Equipped with numerous handy features like moving the toolbar for a left-handed interface, it is getting more and more popular among professional designers. In case you have questions or problems, Inkist contains handy guidelines too.
MediBang Paint
With MediaBang Paint, you are able to create digital drawings and comics. Handy cloud features make this application transferable at ease. More than five hundred backgrounds and fifty brushes distinguish this app on the digital market.
Loop
This animation app allows creating sketches only in three colors. They are red, blue, and black. Despite the fact that this tool is limited in terms of the color palette, it is a reliable instrument for creating eye-catching GIFs.
PadCAD
This app contains a number of tips, concerning the process of drawing. PadCAD is also a drafting instrument to create distinctive drawings of walls, doors, stairs etc. Simple and manageable, this tool is a good choice for small and medium projects.
Paper
This application is perfect for multiple purposes. Paper is an excellent choice for taking notes and creating visually attractive sketches, including diagrams and charts. This tool is good at keeping your visual aids well-organized. Share your visual ideas via Powerpoint presentations at ease!
Evernote
This powerful app offers its users lots of joy while writing on the digital paper. Focused on the handwriting process, Evernote is a necessary tool for designers who prefer to write on the naturally looking paper. It is worth mentioning that this app contains the Wrist Protection, which is important for beginning writers.
Photoshop Sketch
You can learn this highly productive drawing tool with the tutorials that Adobe has generously offered. The available perspective grids give you a unique chance to build your own 3D world in the blink of an eye.
PicsArt Color Paint
This application is your lifesaver if you need a reliable tool for making stunning images, collages, and drawings from photos. Choose cute collage templates, realistic brushes, and bright backgrounds to enjoy the full scope of the visual pleasure!
Scribblify
Created for users of different age and professional background, Scribblify is an excellent choice to try the multi-touch support. More than ninety brushes and modern color effects will definitely attract the attention of your followers on the social media.
We hope you to find a free drawing app to your taste. Add colors and light to this world with the device you have at hand!
One response to "20 Best Free Drawing Apps to Use in 2017"
Thank you for subscribing to MotoCMS blog!
This email is already in use.
Something went wrong. We are fixing this. Try a bit later.